Scarborough Fish & Game Association
******
Meyton and NRA Precision ("Bullseye") Pistol
October 2015

The Scarborough (Maine) Fish & Game Association is developing a new range facility adjacent to their 52-station competition pistol range. The design concept for the facility incorporates features and technologies that address the realities of modern day shooting ranges in a suburban environment, particularly those of competition ("bullseye") ranges. Scarborough identified electronic scoring target systems as one of the technologies.

Electronic scoring targets are prevalent in Europe and are commonly used in ISSF-style competitions. They offer a variety of advantages over paper target systems. However, it was also apparent to Scarborough that there would be technical, procedural, financial, and philosophical challenges in adopting any of the available systems for NRA-style conventional pistol competition.

Scarborough's design calls for a five-station system configured for NRA slow-, timed- and rapid fire pistol and smallbore rifle competition. Individual stations are to be capable of being supervised and controlled from a central location. As US representative for Meyton Elektronik GmbH, Gold Medal Shooting, LLC responded to Scarborough's request for proposals for candidate systems. After evaluating various manufacturer's systems, Scarborough determined that Meyton's optical measuring technology best suited their purposes.

The installation at Scarborough will consist of a Meyton MF6R3 "Black Magic XL" measuring frame and PROFESSIONAL Control PC at each of the five shooting stations, interconnected by a Meyton Power Supply/Gateway. Each shooting station will be capable of being operated either independently from its controller pc or under the control of a master computer running Meyton's "ShootMaster II" software. In either case, the interconnection and the ShootMaster software allow central supervision and management of each of the five individual shooting stations.

With financial support from various sources, including a 2014 grant from the NRA Foundation, Scarborough acquired the master control system and one target frame and controller pc. They configured the equipment and demonstrated it during the 2014 NRA New England Regional Outdoor Pistol Championships.

The NRA Foundation funded acquisition of a second target frame in 2015. Scarborough has designed and built special equipment to adapt Meyton's system for NRA-style competition. Gold Medal Shooting is providing on-going support to Scarborough's project. Scarborough is working to acquire three additional target frames to complete the five-target system installation.
******
Images courtesy of the Scarborough Fish & Game Assn.
Click images for a closer view
MEYTON target vs. paper target at SFGA
SFGA concept of the 5 target array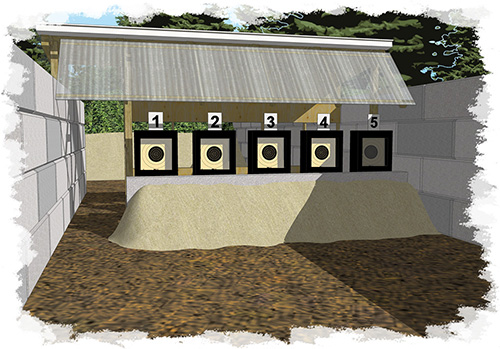 Targets as seen from the firing line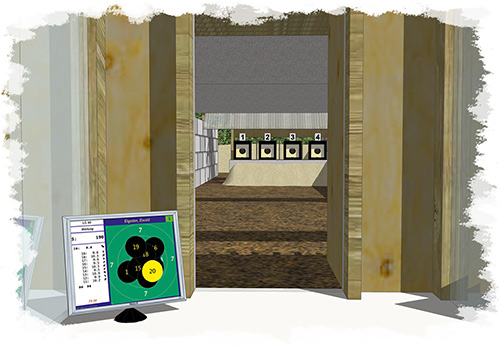 The members of the Scarborough Fish & Game Association have taken a bold step in furthering the current and future prospects for the sport of NRA Precision ("Bullseye") Pistol. And, both Gold Medal Shooting LLC and Meyton Elektronik GmbH are committed to supporting them as they move forward with their ambitious project.
If either you or your club are interested in knowing how we may be able to support this style of competition, please contact us. We are always happy to work through the requirements for each individual or club so the resulting installed system meets your needs.
© 2014-2018 Gold Medal Shooting, LLC. All Rights Reserved.